About Tim
Tim Bryce is a writer and management consultant who writes commentaries about the times we live in be it in the corporate world or our personal lives. His writings are well known on the Internet and are humorous, educational, and at times controversial. You won't always agree with him, but Tim will definitely get you thinking. Tim is the Managing Director of M&JB Investment Company, an international management consulting firm located in Palm Harbor.
A seasoned writer, Tim's works have appeared in management and computing publications all over the world. His book, "The IRM Revolution: Blueprint for the 21st Century" made the Top 10 list of management books in Japan.
His latest book is Stand Up for MORALITY, (ISBN: 0-9786182-8-9) is a frank and open discussion about morality in American society and how is should be taught.  His other books, available from MBA Press, have also received critical acclaim. Tim's blogs and podcasts are read and listened to by thousands.  For Tim's corporate biography, click HERE.
An avid writer and speaker, Tim discusses everything from business and management, to politics and morality, to
systems and technology, and our ever changing world. In addition to his columns, you can
listen to Tim on the radio at:
WJTN-AM (News Talk 1240) "The Town Square" with host John Siggins (Mon, Wed, Fri, 12:30-3:00pm Eastern)

Or tune-in to Tim's channel on

YouTube

.
Mr. Bryce's columns and podcasts are both available for syndication.  Just send Tim an e-mail at:  timb001@phmainstreet.com
Tim is also available as a speaker.
As a management consultant with over 30 years of experience, Mr. Bryce's areas of specialty includes:
Enterprise Engineering – for defining the mission and goals of the business and the development of an Enterprise Information Strategy synchronized with the business.
Information Systems Engineering – for designing and building enterprise-wide information systems (business processes crossing organizational boundaries). Systems Engineering is considered a precursor to Software Engineering.
Data Base Engineering – to design and develop the corporate data base, both logically and physically.
Project Management – to plan, estimate, schedule, report and control projects.
Methodologies – standard project work breakdown structures representing best practices for developing quality products.
Repositories – for cataloging and controlling information resources thereby providing a vehicle to share and reuse such resources.
Click for TIM'S RESUME.
BOOKS BY TIM BRYCE
REFERENCES
"On the 'Town Square' we count on 'The Bryce is Right!' for timely and accurate Political, Social, Business and Humorous commentary three days a week. Our listeners depend on Tim's wit and wisdom and he always delivers from beautiful Palm Harbor Florida. Talk Radio listeners have many choices, none better than Tim Bryce."
- John Siggins
WJTN (News Talk 1240)
"The Town Square"
Jamestown, NY, USA
"Tim has some amazing insights into so many things – he's a very bright guy with a sense of humor too!"
- Carol Van Drie
Lansing, MI, USA
"A couple of months ago, I clicked on a hot article by Tim Bryce. I liked what I read so I went to his site to read more and I am so glad that I did. Tim is one of those folks I call a "sleeper". He is here but he just goes quietly about his craft not necessarily seeking or needing anything from anyone. He is one of those people that you just instantly like. Judging from the way he writes, I really believe that he has the ability to bring some order and understanding into just about any state of chaos. He can attack most any subject and take it from a new perspective. It will always be interesting. He can be very objective and fair but I suspect that he can tell it like it is when he wants to do that. He writes in a way that just inspires. He slowly takes things apart and puts them back together right before your eyes. When he finishes with a subject, you really understand it or you really understand how you feel about it. He still believes in those things that made America great, work ethic, honor, duty, your word, consideration for your fellowman. When you read his work, you will believe in those things as well. Tim can get any subject down to the reader's level and get the intimidation out of it for the reader. He does that by creating an empathy with his reader and he does it well. Just reading his work has created a lot of reader awareness in me for my writing. If you have doubts, go to his site and read the piece on cigars. You will see. If I were directing a hostage crisis or mediating a labor contract, I would want Tim Bryce with me. I'd win too!"
- Wayne Brown
Arlington, TX, USA
"The Blog description is so right. You might not always agree with Tim but he always makes you stop and think, and I mean universally. Even being from Finland, the topics are so relevant that it is a pleasure to ponder them."
- Timo Kettunen
Finland
"We engaged Tim to bring the PRIDE methodology to Atlantic Electric. The methodology, along with an estimating system we developed locally, allowed us to bring in projects on time, on or under budget, and within 3% = – on labor estimates. If I sound like a bigot in favor of using development methodologies I am. The methodology was so flexible that it allowed us to model our process for new tools and different development languages."
- Michael Barnes
Assistant Director Office of Scholarships & Financial Aid at UNC
Wilmington, NC
"Mr. Bryce's presentation to our group of South Florida Business Analysts took place at Carnival Cruise Lines offices in Q1/ 06. Per my request to him, he responded in the affirmative with professional grace and flexibility per format/content. His presentation was engaging, highly intellectual, with clear focus and, in short, rewarding for all attendees. Mr. Bryce is extremely knowledgeable, well published, possesses a large idea-base and is very generous in sharing, and discussing, his life-work, including overseas-work anecdotes, with other professionals regardless of their seniority or level of experience."
- Robert Goldman
Technical Business Analyst at Citigroup
Miami/Fort Lauderdale Area
Director, South Florida Business Analysis Group
"Tim has deep skills in project management and Information Technology. With his three decades of experience in consulting with the "PRIDE" family of IT management tools, around the world, he understands the IT industry issues with a truely global perspective. Tim is also very experienced in corporate communications and technical marketing, providing effective leadership in that area during the time that we worked together at M&JB. Tim is a great guy to work with, and a real team player."
- Oliver Hagerman
Systems Integrator at Sun Microsystems
Cincinnati, OH
"While at Elizabeth Arden I had the pleasure to work closely with Tim on the implementation of the "PRIDE" methodology on a global basis within the Arden IT organization. Tim proved to be a subject matter expert on "PRIDE" and on the architecture required within an organization to support it. Since then Tim and I have continued to collaberate on IT initatives and issues of the day. Tim is highly articulate, intelligent, entraprenaurial, and a state of the art IT professional."
- Michael B. Snyder
I.T. Consultant
Sarasota, FL
"Early in my career at Atlantic Electric we purchased a project management methodology and a system development methodology from Tim's company, M. Bryce & Associates. I found Tim to be more than just a vendor selling a product. I viewed Tim as more of a mentor and coach with respect to project management and system development. His products always seemed like just a means to the end. Tim's mentoring and coaching helped me grow professionally more than any class I have ever taken. And you can take it from me, even to this day; Bryce's Laws are spot on."
- Tom Pietropola
Business Architect at EMC/Technical Solutions
Boston, MA
"I find Tim's blogs insightful and thought provoking. Whether you agree or disagree, they make you think."
- Tom Pietropola
Hopkinton, Massachusetts
"Tim Bryce – rants on – and I often recoil from the tone but often there's some uncluttered truth being written out loud."
- Sarah Farrugia
London, UK
"Tim has the conviction and passion that transforms his dedication to information technology management into a piece of art. I highly recommend his free articles, essays, bulletins, methodologies, and podcasts (which are in clear English terms) to any information technology professional who could find them on-line."
- Fernando Doylet Auson
Programmer at The School Board of Broward County
Miami, FL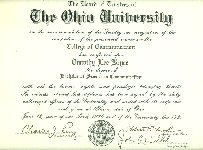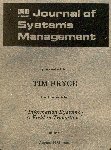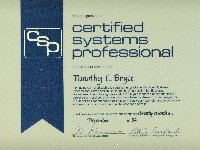 One Response to "About Tim"
March 30, 2009 at 7:19 am

I love your site. Keep it up !

LikeLike